A Chat with Daniel Mendoza
"Retreat is a way to give back and help the industry. Sharing knowledge with new roasters and even people who have been roasting for a long time."
Photo by ©James Dewhirst | @jamesdewhirst
In preparation for this year's CRG Retreat, we've been chatting with some of the many volunteers who make events like this possible. Today, we'd like you to meet DANIEL MENDOZA, a three-year CRG Retreat volunteer.
Who is Daniel Mendoza?
Daniel Mendoza: I'm from Colombia – I moved to the US in 2011 because my wife is from the states. Since I moved here, I switched careers. I used to export fresh fruits and tropical flowers. I moved to coffee by accident. I try to be a person who likes to help, who also is trying to raise a family the best way possible in order to show love and compassion – just trying to as helpful as possible in every level.
How did you "accidentally" get into coffee?
DM: My career is in International business, I started working in exporting tropical flowers and fresh fruits in Colombia. I got tired of being behind a desk so I moved back home and met my wife through a friend. Her family, in the beginning, they were scared that I am from Colombia and that I was going to hold her in Colombia or something like that. – so we brought her family somewhere that the USA embassy says is not a good place to go. We stayed in a bed and breakfast, they decided to hire me because I spoke English. In 2011, the World Barista Championship happened in Bogotá – some of the guests at the bed and breakfast were competition judges, Anthony Rue and Amber Fox. They invited me to see what the competition was all about. I felt like I was drinking the best coffee I've ever had in my life – turns out I was wrong! I got to taste amazing coffee over there, it was mind blowing. They knew I was going to move to the US, so Anthony and his wife Janet offered their help to guide me in which steps I should follow in order to get into coffee – they told me where to work. I applied for a coffee roaster in Tampa, Buddy Brew Coffee and that's how it all started.

What's your current role?
DM: You're going to be surprised but I work in specialty tea (Spirit Tea)! I think tea is more approachable for the final customer and at the same time have opened more doors for coffee than if I worked for a specific coffee company. Sadly the industry is really competitive and judgemental in a way – that if work for a specific company you're either welcome or not welcome. But because you're in a tea company everyone welcomes you, I think that's been amazing in my position, to be able to meet more people and being able to help create tea menu for coffee shops, and of course, meeting more roasters. My goal is to help spread the word how tea can bring more people in to understand coffee, and also help producers from Colombia that are part of La Real Expedicion Botanica, who also are friends of mine in Colombia, to move more of their coffee.
My role now is to sell specialty tea, teach the similarities these 2 industries have and the importance of tea in coffee, but if i see there is room, I always introduce roasters to coffee producers and finally teach the basic roasting coffee.
What does CRG Retreat mean to you?
DM: I think it's a way to show light to those who dream about roasting. It is like a dream place where you are able to see all the roasting equipment, ask specific questions to the manufacturers, etc, It is amazing, also, I can go back home and help people who are unable to go to Retreat. It's a way to showcase the basics of roasting that are so important.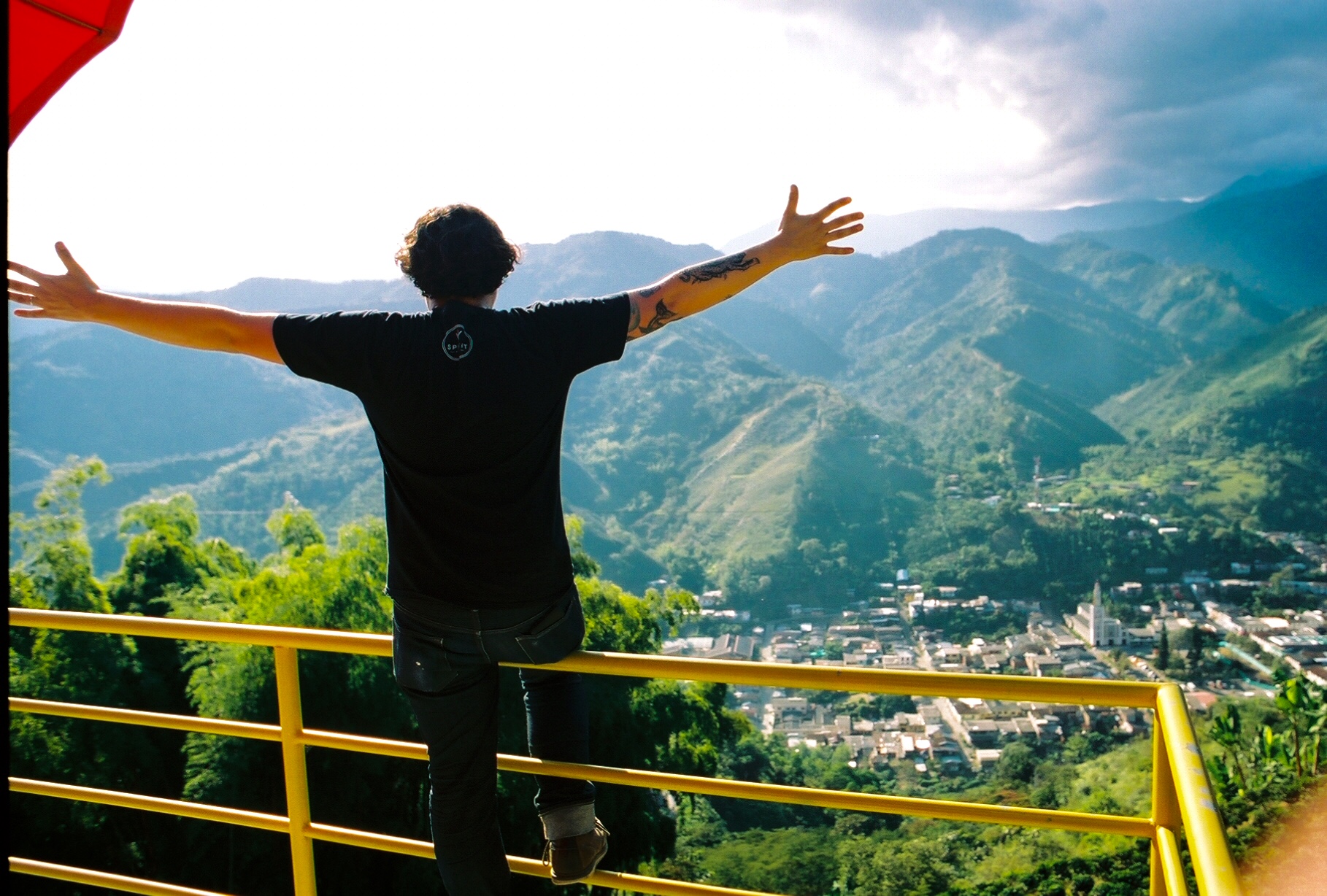 "My goal is to help spread the word how tea can bring more people in to understand coffee, and also help producers from Colombia,"
Photo by ©Seth Davies | @sethdaviesandfriends
How many Retreats have you volunteered at?
DM: This year's Retreat will be the third one I attended as a volunteer.
What's the best thing about volunteering at Retreat?
DM: It's being there to help; to serve, to answer any questions and support those who are teaching. When I started learning how to roast, no one was willing to answer my questions – it was all secretive and no one helped. Now that I have experience in roasting, I want to tell everybody everything I know – I think that Retreat is the place to do that.
How has volunteering helped you as a coffee/tea professional?
DM: It's helped me a lot in a way that, you get to meet so many people. As a roaster, you see that many people are really shy, and volunteering allowed me to help people open up and talk more about roasting while sipping some tea – people are afraid to talk, some because they don't have the knowledge, others just doubt of their self but at the Retreat is the best place you share all your knowledge.
Is there anything you learned at Retreat that you took back to work that's changed things?
DM: Oh everything! Sample roasting, cupping, heat transfer, etc. All the basic knowledge that you learn are things that I share with others. I'm also a roasting judge for the US competitions, so it helps me to judge better – giving feedback and solutions to the competitor is the most important, so they can improve their roasting practices and compete again. Every time I visit people and they ask for my opinion, I can give more constructive feedback than just "this tastes good" or "this tastes bad". The basics I learned at Retreat helped me to help others have a better understanding of what they are doing.
"The basics I learned at Retreat helped me to help others have a better understanding of what they are doing."
Photo by ©Mauricio Garcia | @otromauro
Are there any conversations that you had at Retreat that have stuck with you?
DM: Always conversations with Joe Marocco! HE is like a mentor for so many roasers, Always a fun person to talk to. Also my first Retreat, Rob Hoos was there teaching heat transfer, and I got to talk to him and ask specific questions,– it was an amazing experience. Joe and Rob got me thinking more about air flow and how the machine actually works before you put coffee in. Also got to meet attendees and roasters from Texas & California, which was interesting. Conversations in general, for me was about learning from other people.
What's your best memory of Retreat?
DM: It was when one of my best friends attended. I hired her when I was roasting for a company, (that is not worth mention) and she was just starting in specialty coffee, so seeing her go through the process of growing as a roaster is amazing – she had dreamt about going to Retreat. When we both went it was like working together again. Seeing a person so happy to be there where they can see all the roasting equipment with their own eyes that they can use. I hope lots of people could have that experience.
Did you make any lifelong friends at Retreat?
DM: Yes I did! I met an engineer, his name is Matt, who used to work for San Franciscan, who I still talk to; if I or other roaster have an issue with a machine, he is always there and helps me out. You get to meet different industry folks and after Retreat you can help each other out; you're another resource.
Why would you recommend volunteering at Retreat?
DM: You have to give back! I don't have money to give to people, but I have knowledge; I think that's worth more sometimes. Retreat is a way to give back and help the industry. Sharing knowledge with new roasters and even people who have been roasting for a long time. One of the things I've learned from industry people is that there's a lot of things we don't know about coffee. It's about your practices and doing it every day that showcases experience. It's like walking or running, you think you're doing it right and then you learn that breathing or shoes are important – things that you didn't know. I think that every day you learn something, at Retreat you're roasting at the same time and talking about it, it gives you perspectives that you didn't know exists.

Join Daniel at CRG Retreat August 15-18, where he will be volunteering! For more information and to book your place visit the CRG Retreat website here.